RomHustler is better with Premium
Enjoy all our 27,779 awesome console & handheld games with no download limits.
Premium Membership
3 Months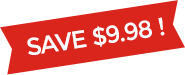 Premium Membership
1 Month
Premium Members
Unlimited Downloading
Direct Downloads
No Account Restrictions!
Normal Members
Limited Downloading
Limited Download Speed
Maximum Allowed Connections - 1
Frequently Asked Questions
What do I get access to as premium?
With premium you get unlimited access to every file hosted on RomHustler.
Can I cancel payments at any time?
I get an error saying I already paid for this product.
Our payment provider remembers the purchases you make to prevent mistakes, if you want to renew your premium and this happens simply right click the buy link above and select "open in incognito" or "open in private window."
I'm unhappy, can I get a refund?
Yes. We have a 7 days full money-back guarantee. If you request a refund after 7 days for a valid reason we may offer a full or pro-rated refund judged on a case-by-case basis. Ultimately we just want our customers to be happy.
I have a question not answered here.
Please use our contact page and we'll get back to you as soon as possible!